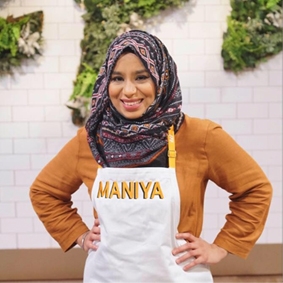 Fatima Maniya
With love from Kolachi, experience world cuisine from my kitchen. It wasn't after winning the title of America's #1 Food Family on ABC network's Family Food Fight i truly embraced my blog and seriously started working towards growing it. The goal is to highlight Pakistani cuisine in the main stream culinary industry. Meanwhile i also aspire to write and publish a cookbook and ultimately open up a resturant. I want to cater to the culinary curious who seek for food with a lot flavor and passion. I am also fortunate enough to have my recipe featured in the prestigious Master Chef USA digital cookbook and recently endorsed Aria air fryers and work as a Culinary Curator for them.
Growing up in Karachi, Pakistan I was surrounded by a very rich food culture. Not only that but I also grew up in a home with expert cooks. Everyone from my mother to grandmother, to aunts, to cousins and even our house helpers had a unique perspective when it came to cultural and regional cuisine. My mother has always been my inspiration.
Both my grandmothers who grew up in Burma, moved to India as young girls and later to Bangladesh had a wealth of knowledge when it came to regional cuisine of south East Asia. Our house help who came in search of work to the big city from the interior rural areas of Pakistan taught me all I know about cultural cuisine of Pakistan. I take pride in the fact that I started cooking at an early age of 11 which further enhanced my skill when I moved to United States at 15.
Moving to States broadened my horizons further and I was exposed to a whole new world of cuisines. Italian being my second favorite to Asian cuisine, I love how close Mexican flavors are to Pakistani palate. America being a melting pot to more then 30 different ethnicities the learning curve was off the charts. With limited access to technology in the early 2000's tv celebrity chefs were my go to mentors for tips, trick, hacks and ultimately my knife skills. I also take a lot of inspiration from my travels and try to incorporate that in my food as well.
I am grateful for the opportunity I got to participate on abc channels Family Food Food to showcase my talent as a home cook and break stereotypes along the way about Muslim women on national television. I hope to keep moving forward and build a community around this title and tell my story to the world. I wish to write a cook book which will showcase world cuisine with a Pakistani flare.
Please don't forget to follow me on my instagram, subscribe to my YouTube Chanel and please don't forget to subscribe to my blog. In the end I would like my subscribers to know that I am extremely happy to be a part of the thriving and diverse culture that makes this country great through my Pakistani roots, heritage and cuisine.