Bomboloni Donuts have gotten their fair share of popularity lately, especially in the Chicago land area after the popular joint Bombo Bar made its way to the top of Chicago's must try spots. Bomboloni's are hole less italian donuts filled with lip smacking fillings, popular ones are Nutella, vanilla creme, salted caramel, cream cheese, espresso mascarpone, raspberry jelly and whip creme with fresh fruit, however they are simply delicious all on their own with powdered sugar.
I have been working hard on recipe developing side of my blog, so I decided to give these donuts a shot because bombo bar is an hour and half from where I live.
So obviously we all know the inspiration behind these donuts but to nail a recipe for such a popular item is a must before sharing. I have been experimenting with a lot of donut recipes but didn't want to try a donut with yeast because it's obviously time consuming. However, these donuts can't be made without yeast. You have to add a large quantity of yeast to these donuts for the airy pockets and hole in the center for your fillings.
Everything in this particular recipe is very straightforward except for the wait, these can be made the same day but after testing the donuts on two separate days one with the wait and one without i really enjoyed the donuts on the second day after the yeast had time to develop. The key to a successful dough is to make sure all your ingredients are at room temperature. Also, the amount of yeast used in this batter is 3 tsp which may seem like a lot but the key to a light airy pocket like donut is the yeast.
Details
Cooking time
4 minutes<br>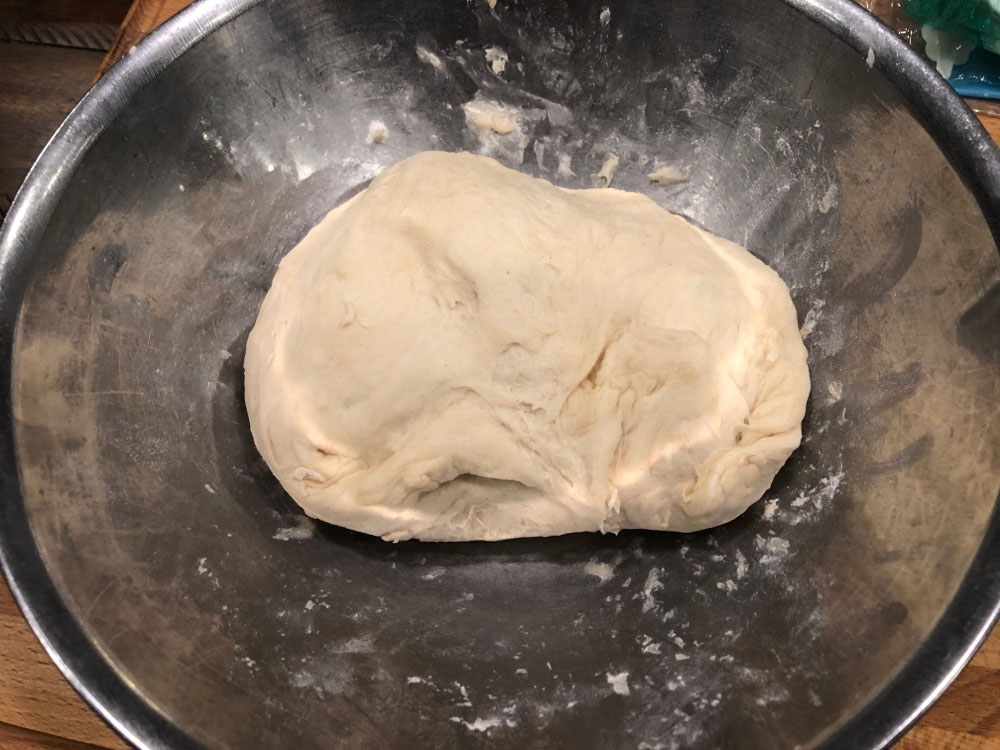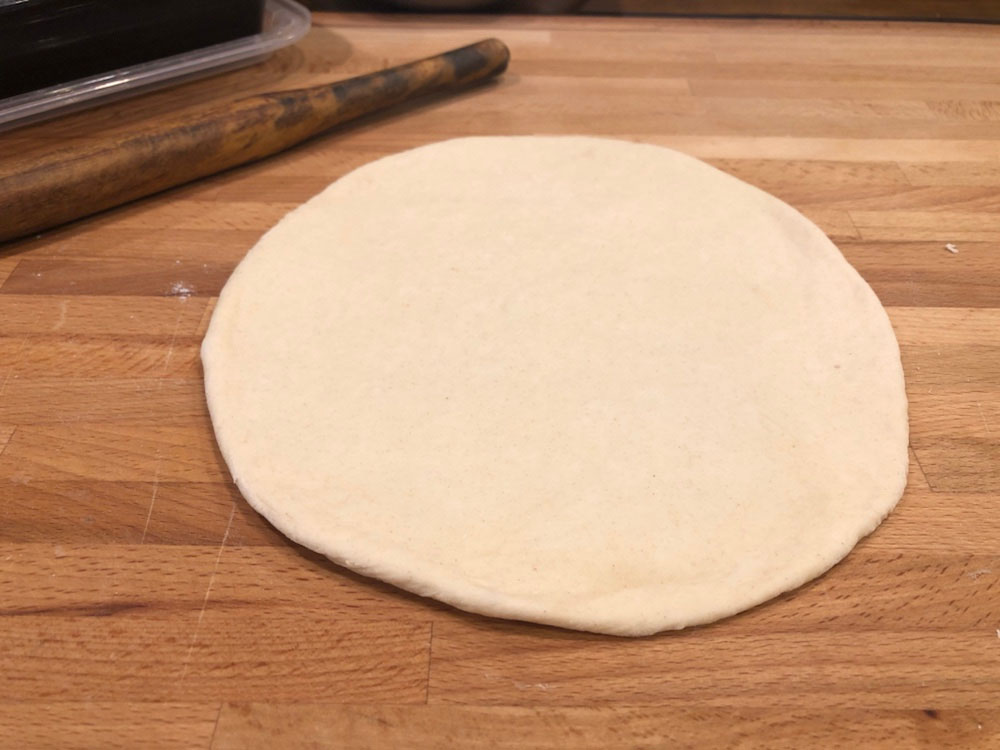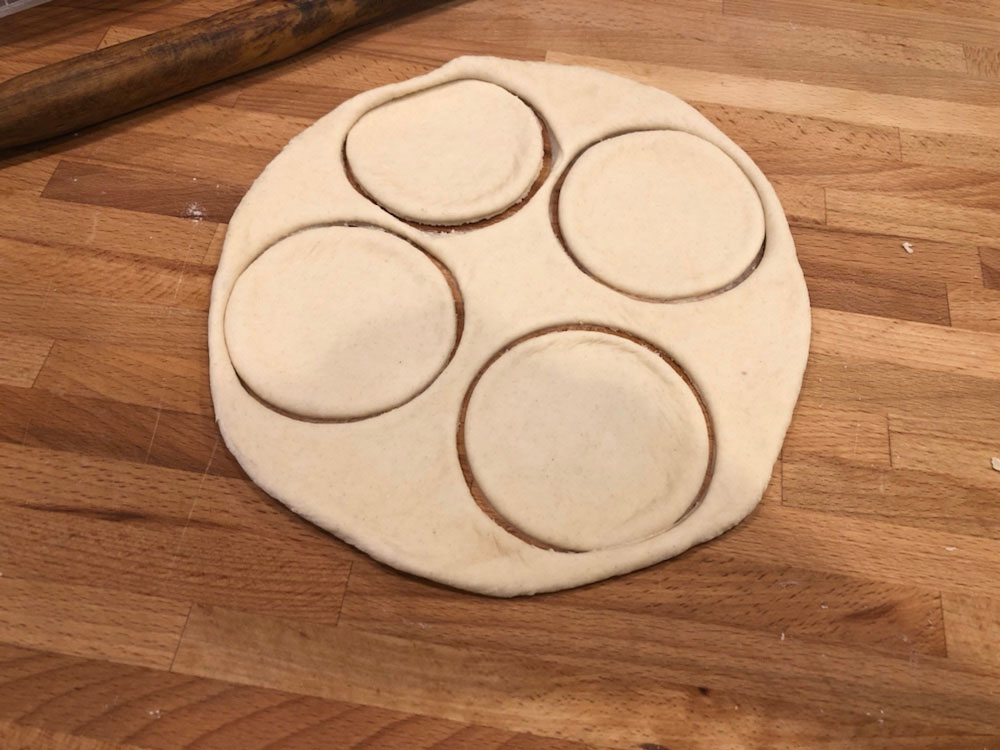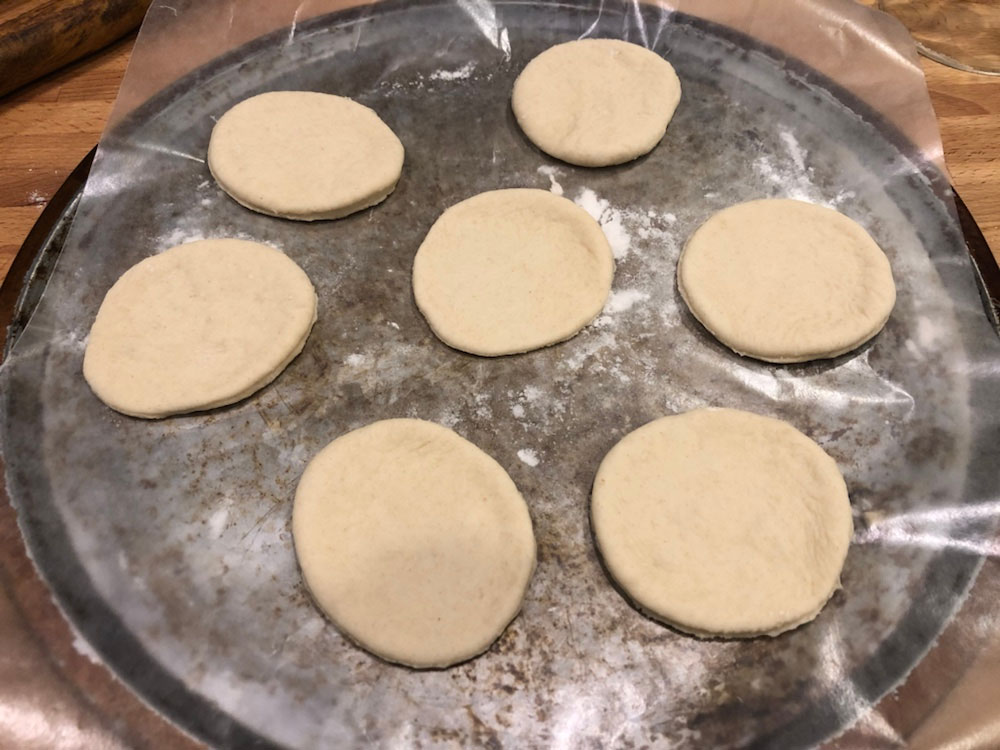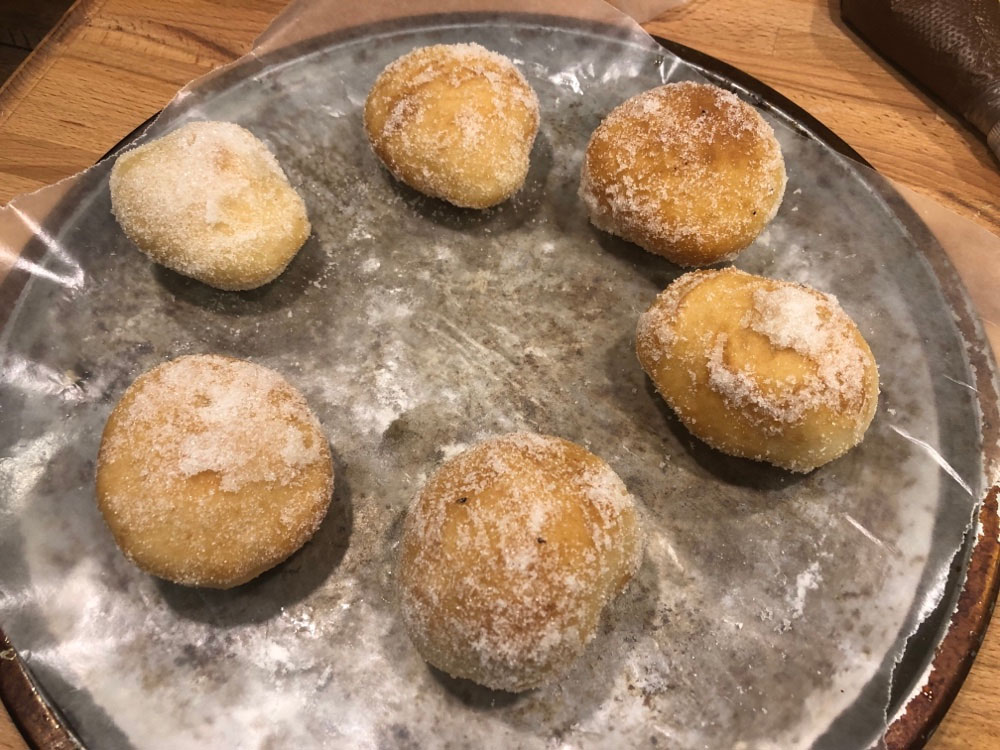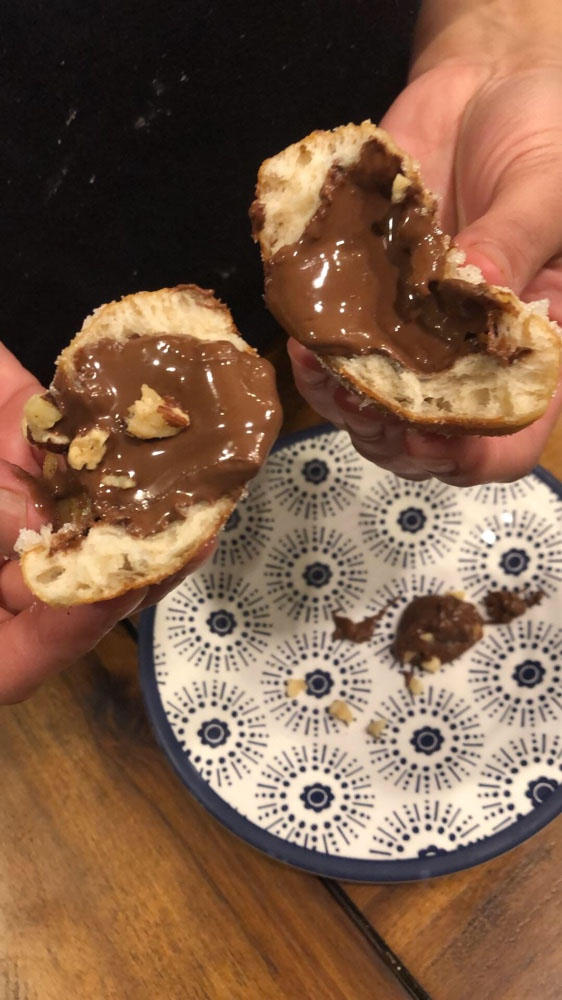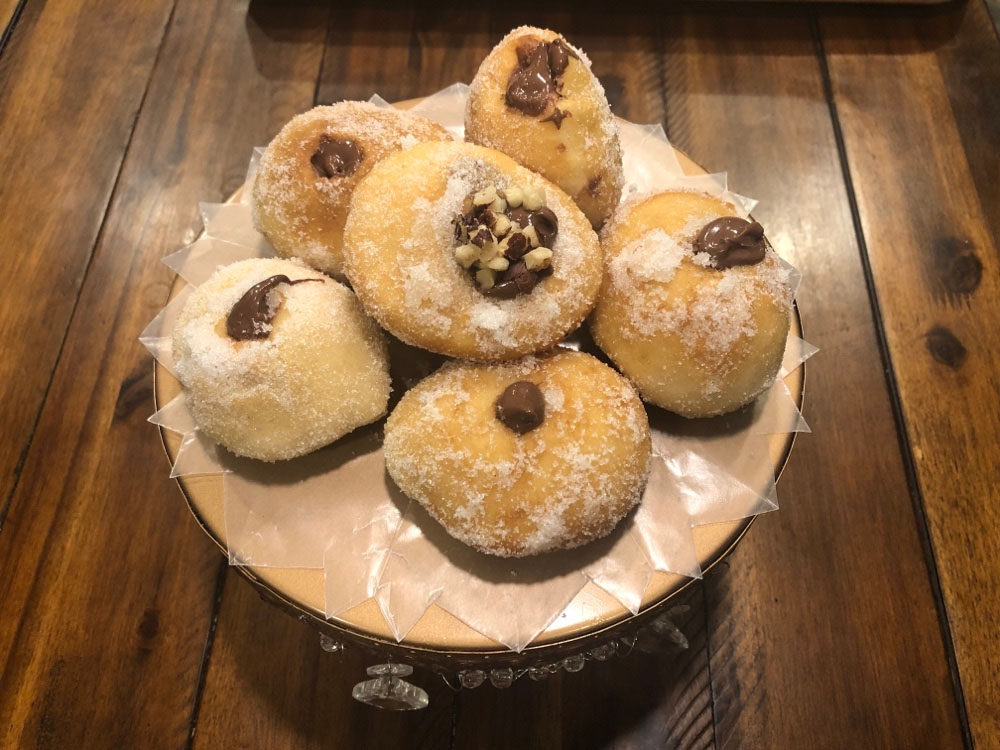 Ingredient Substitution
Butter instead of vegetable shortening. Shortening is 100% vegetable oil, which allows for a higher melting point than butter, so it stays solid within the dough longer. When the shortening finally melts, steam forms in pockets and it puffs the layers of dough apart, making a flaky, but not as flavorful as butter.
Plain/Still water instead of Carbonated/Sparkling water. Carbonated/Sparkling water helps the dough become light and airy when you fry it. The carbonation in the water helps the dough with the density of the dough.
My personal favorite filling is Nutella, please don't forget to comment below and let me know your favorite filling!
I hope you guys give these donuts a shot and enjoy them as much as we did. Please don't forget to leave a review and comments if you give this recipe a shot. Please subscribe to my blog for recipes and follow my Instagram to watch me cook live and quick recipes in my stories.
7Italian Bomboloni Donuts
Course: Dessert
Cuisine: Italian
Ingredients
3 cups All purpoe flour (extra for rolling)

1 Egg (room temp)


1⁄2 cup Milk (room temp)


1⁄2 cup Carbonated water (room temp)


1⁄4 cup Vegetable shortning (substitute butter)


3 tsp Instant yeast


1 tbsp Vanilla extract


3 tbsp Sugar


1⁄2 cup Sugar (for rolling the donuts)


1⁄4 tsp Salt


3 tbsp Warm water


2 cups Oil (for frying)


Directions
In a bowl add yeast, 1 tbsp sugar and 3 tbsp warm water, mix to activate the yeast. cover and set aside for 15 mins. Once the yeast has doubled, it is ready to use!

In a bowl sift flour, sugar, salt and set aside.

In a stand mixer mix milk, egg, vanilla extract, vegetable shortening, yeast and the carbonated water until smooth (make sure they are all at room temperature) You don't have to use a stand mixer, you can use any other tool you have!

Now slowly incorporate the dry ingredients with the wet ones in small batches until the batter comes together. The dough will be sticky but it should release itself from the sides but not the bottom of the mixer.

If the batter is wet, you can add 1 tbsp of flour at a time until you reach the desired consistency.

Remove the batter from the mixer, use some oil and make it smooth. Put it in a bowl, cover it with a damp cloth, place it in a warm area and let it rise for at least 2 hours or overnight in the refrigerator for best results. *For best results let the dough cure overnight in the refrigerator! But you can make donuts after 2 hours once the dough has doubled in size.

Once the dough has doubled in size, place it on a floured surface, flatten out the dough with a rolling pin to a 1/2 inch thick. Use a round cookie cutter 4.5 inch diameter or whatever you have on hand to make the cuts. Place the donut cuts on wax paper on a cookie sheet and place them somewhere warm to rise for half an hour.

Meanwhile heat oil to deep fry the donuts. I used canola oil. The best temperature to fry the donuts is on medium high.

Once the donut disks have doubled in size, fry them until golden. Fry one or maximum two at a time, so the temperature of the oil does not fall, once the donuts are golden on both sides, remove them from heat and toss them in sugar immediately before placing them on a cooling rack.

You may skip the step of tossing the donuts in sugar and sprinkle powdered sugar on top of the donuts if you prefer that.

The donuts are now ready to be filled with your favorite fillings. I filled mine with Nutella because that's my favorite filling.

Donuts can be filled with custard, jelly or vanilla cream.

Enjoy while they are still hot with a cup of espresso!