kalakand is a popular Indian subcontinent sweet made with sweetened, solidified milk. Traditionally cooked for hours in ghee and made with fresh milk, it is slow cooked until milk reduces and turns into sweet, solid milk curdles.
Here I am sharing a simple, quick cooking microwave method shared by my cousin. You need 5 ingredients including the garnish.
The ingredients are simple. Condensed milk, milk powder, a dash of salt, heavy cream, green cardamom pods, and nuts for garnish.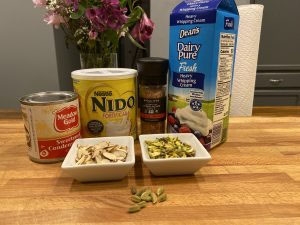 Take the seeds out of the cardamom and make a powder. Combine all the ingredients together in a microwave safe dish. Adding a dash of salt to your dessert enhances the sweetness.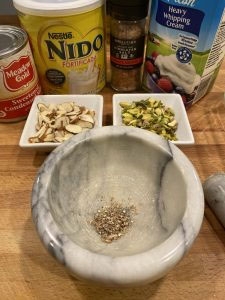 Once you mix all the ingredients in a microwave safe dish, place it in the microwave for 3 and 1/2 minutes on high. Cook the batter on 30 second intervals until the moisture starts to evaporate. The batter will start to look thick and curdled.
With the help of a spatula, keep mixing the batter and bring it together. Once the moisture is dry and the batter is soft and comes together, set it in a big square. Garnish with the remaining nuts and silver foil. Once the mixture is at room temperature, cut it in squares and store in an airtight container.
Kalakand
Course: Dessert
Difficulty: Easy
Ingredients
2 cups Dry milk powder (Nido fortified)

1/2 cup Condensed milk

1/4 cup Heavy Cream

1/2 tsp Green Cardamom seed powder

1/2 cup Chopped Almonds and Pistachios

Edible silver or gold foil for garnish

1/4 tsp salt
Directions
In a microwave safe dish mix the dry milk powder with condensed milk, heavy cream, cardamom seed powder, salt and 1/4 cup chopped nuts.
Place it in the microwave for 3 1/2 minutes on high. Stop the microwave at 30 second intervals to mix the batter until it starts to thicken and form big curdle like globs.
Once there is no more moisture left in the batter and it's a big thick but soft glob use a spatula to stick it all together and make a big block and let it set. Garnish with remaining nuts.
After it comes to room temperature, garnish with edible silver foil and cut it in squares.
Store in an airtight container!!