Falooda is a delicious dessert drink from the Indian subcontinent. It is typically served at happy occasions, festivals and religious holidays. Rooh Afza is a rose flavored syrup base, which is diluted with water and considered a popular refreshing drink served in summer to cool down. This base is also used in falooda by mixing it with milk. Basil seeds are added for color and are considered to provide a cooling effect to the body.
---
You may use other flavored jello to add more color and pistachio ice cream may be substituted instead of vanilla ice cream. Rooh Afza and dessert spaghetti or corn vermicelli are both easily available at any Pakistani Indian grocery store.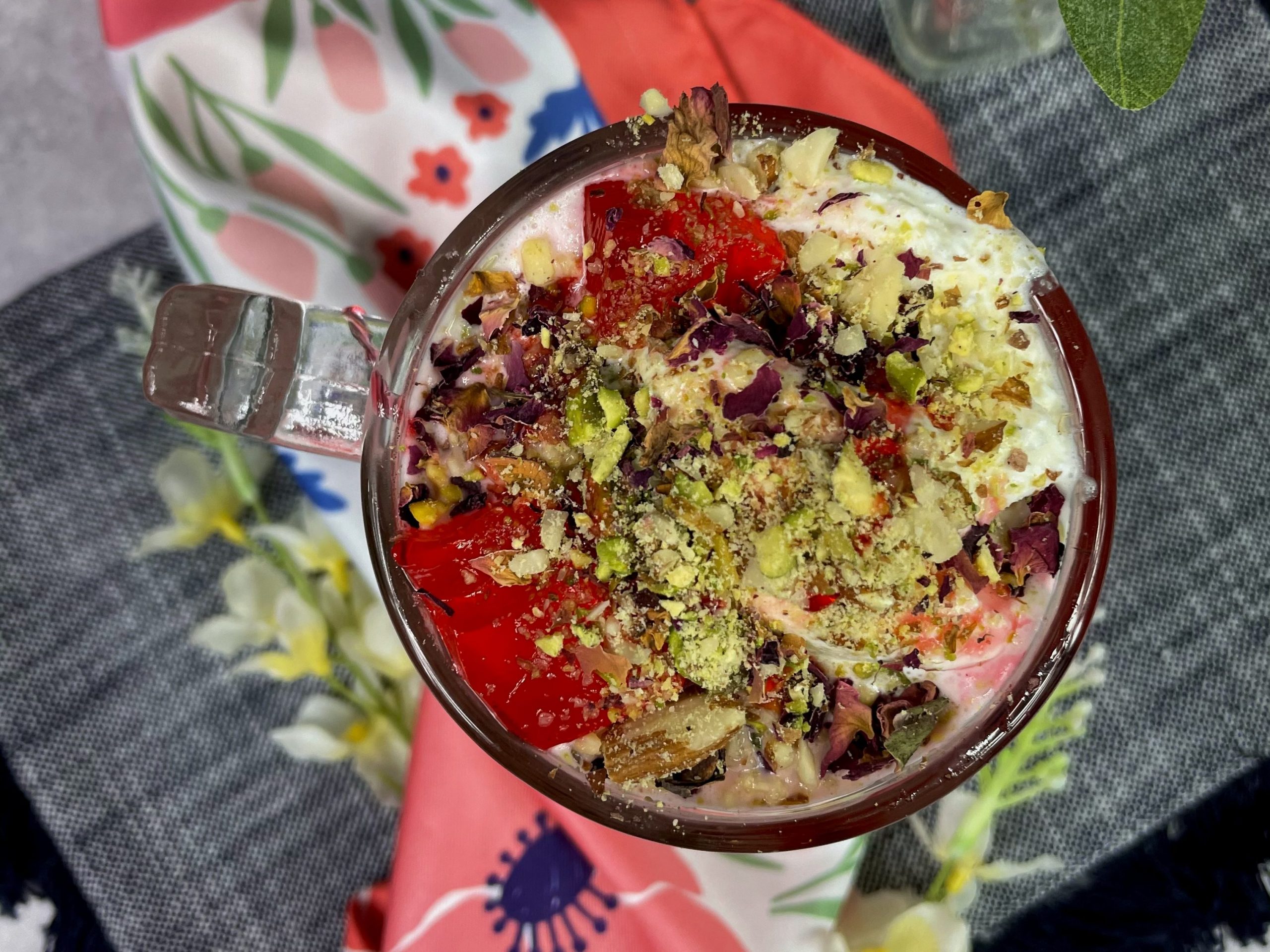 Don't forget to checkout my instagram for more recipes!
Falooda
Course: Dessert
Cuisine: Pakistani/Indian
Difficulty: Easy
Rose flavored milk based dessert drink with ice cream, jelly and nuts.
Ingredients
1 1/2 cups cold milk

1/4 cup Rooh Afza (rose syrup)

1 package strawberry jelly

1/4 cups ground pistachio and almonds

4 tbsp basil seeds

1/4 cup dessert vermicelli (falooda noodles)

1/2 qt vanilla ice cream

1 tbsp dried rose petals (optional)
Directions
Stir in rooh afza (rose syrup) in 1 and 1/2 cups of milk with 4 tbsp of basil seeds, cover and put it in the refrigerator for 20 mins until the basil seeds swell and become soft and translucent.
Set the jello according to the package directions and set aside.
Cook the dessert vermicelli according to package directions and set aside.
In a glass add 2 spoons full of jello, 1 extra large scoop of vanilla ice cream, 1 tbsp full of dessert spaghetti, 3/4 cup of rose milk, more jello and dessert spaghetti. Sprinkle with nuts, dried rose petals and a drizzle of rose syrup.
Enjoy!!