Box patties are a Ramadan staple in our family, a delicious creamy chicken filling tossed with stir fried veggies is wrapped in the spring roll wrappers and shaped like a box. Once deep fried, they turn crispy golden. Usually served with ketchup, they are a crowd pleaser for sure. It's not very difficult to wrap them once you get a hang of it. This recipe conveniently uses the Multi purpose chicken https://flavoredbyfatima.com/2020/02/21/all-purpose-chicken/ which makes it a breeze to make them. Below i will share steps on how to wrap them.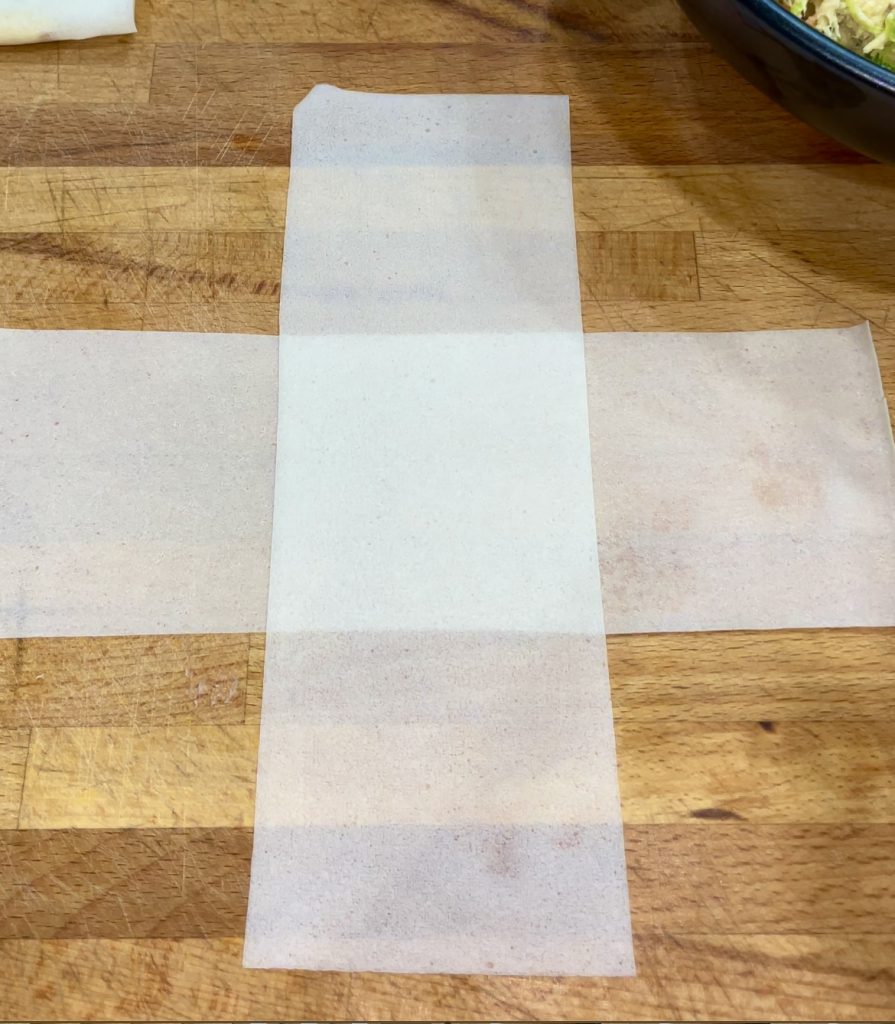 ---
This is a super easy technique once you get a hang of it. I hope you like this recipe and try it at home! Please don't forget to follow me on my instagram for everyday inspiration.
Box Patties
Course: Appetizers
Cuisine: Pakistani, Fusion
Difficulty: Easy
Spring roll pastry filled with a delicious creamy filling, shaped into a box.
Ingredients
1 cup Multi purpose chicken

1/4 cup shredded cabbage

1/4 cup shredded carrots

1/2 green bell pepper thinly sliced

1/2 tsp black pepper

1/4 tsp crushed red pepper

1/2 tsp salt

1/8 tsp sugar

1/4 tsp soy sauce

1 green onion sliced

1/2 cup white sauce

1 tbsp oil

Spring roll covers

1 cup oil for deep frying.

White Sauce

2 tbsp butter

1 1/2 tbsp All purpose flour

1/2 cup milk

Salt to taste
Directions
In a skillet heat oil, to this add cabbage, carrots and bell peppers, seasonings and soy sauce. Quickly stir fry on high heat for around 1 minute.
Remove and set aside.
To this add the multi purpose chicken, spring onion and white sauce. Mix well and the filling is ready.
Cut the spring roll pastry in 3 long strips, separate the pastry and place them in a crisscross shape. Place 1 tbsp filling in the center and fold the pastry until it resembles the shape of a box.
Deep fry until golden and enjoy with your favorite condiments.
This recipe yields 20 box patties.
White Sauce
In a sauce pan heat butter until melted, to this add the all purpose flour and whisk continuously until fragrant and there are no lumps.
Add the milk and continue whisking until smooth. Lower the flame and let it simmer for around 3 mins until the sauce thickens.
Turn off the flame, season with salt and set aside until room temperature.