I have been trying to lose weight lately and trying to eat healthy by cutting down carbs and processed sugar. The only problem is whenever i try to eat healthy, i start craving dessert and my diet goes down the drain, which is why i decided to come up with a healthy recipe for freshly baked chocolate chip cookies.
This recipe is super easy and you won't even miss the gluten or realize these are suppose to be healthy!!
Tips
The key to these cookies is to refrigerate the cookie dough for at least 2 hours and they turn out even better if you let it rest overnight!
You may use any choice of gluten free flour.
You can use baking dark chocolate chunks instead of dark chocolate chips.
Using room temperature ingredients is important so all the ingredients can incorporate properly.
I love the Bob's Red Mill Gluten free 1 to 1 baking flour, it is by far one of the best baking flour i have ever used. In fact I am looking forward to trying more recipes with this flour.
Details
Prep time
2 hours 15 mins<br>
Cooking time
12 minutes<br>
Total Time
2 hours 30 mins<br>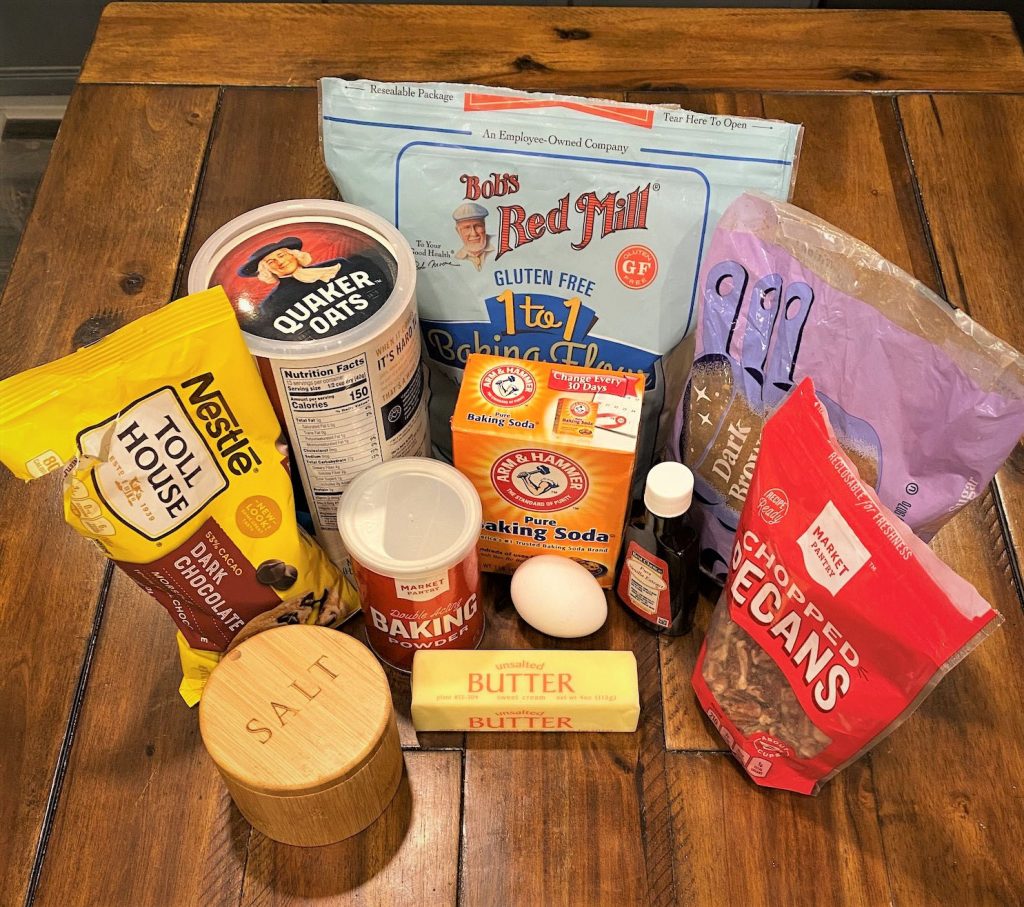 This recipe is not one I had to work really hard to come up with because its identical to my regular chocolate chip cookies recipe, all I did was changed the ratio of the flour with gluten-free flour and quick oats. This recipe yields 12 cookies.
I hope you enjoy this recipe, please don't forget to like, comment, and share with family and friends. Please don't forget to follow me on Instagram and subscribe to my youtube channel and blog.
Gluten Free Dark Chocolate Chip Cookies
Course: Dessert
Cuisine: American
Prep time
2
hours
15
minutes
Ingredients
3⁄4 cup Gluten free flour (Bob's red mill 1 to 1 baking flour)


1⁄2 cup Quick oats (Quaker Oats)


1⁄2 cup Softened unsalted butter (1 stick)


1 count Egg


1⁄2 cup Brown sugar


1 1⁄2 cups Dark chocolate chips


1⁄4 cup Pecans (optional)


1⁄2 tsp Baking powder


1⁄2 tsp Baking soda


1 tsp vanilla extract


1⁄8 tsp salt


Directions
Start with creaming with the sugar, butter and egg. Make sure the butter is softened.

Combine the wet ingredients with dry ingredients and mix well. Fold in the chocolate chips and pecans.

Cover and refrigerate the cookie dough for at least 2 hours or even overnight.

Heat the oven to 350 degrees. Prepare the cookie tray by lining it with a silicon baking mat. Spoon 2 tbsp of cookie dough for each cookie and place no more than 6 cookies on each tray. This recipe yields 12 cookies.

Bake the cookies for 10 to 12 minutes. Remove the cookies and cool for 3 minutes before handling the cookies.

Enjoy with a glass of cold milk!