Muffin is an individual size baked good served as a popular breakfast item in many western countries. It pairs perfectly with a cup of coffee!! They come in many flavors on a regular basis and during holiday season they comes in festive flavors.
Muffins compared to cupcakes are more dense and contain less moisture then cupcakes. Popular muffin flavors are blueberry, banana nut, chocolate chip, plain chocolate and cinnamon swirl.
I love me a blue berry muffin, my husband loves banana nut but my girls love chocolate chip muffins. So, you see there's always a problem with which flavor to bake so, i came up with a one batter unlimited flavors recipe for my muffins. My muffin recipe is super basic but delicious. Perfect on its own and even better with your favorite mix in's. The possibilities are endless but below are a few options:
* Add 1/8 cup mashed blueberries tossed in with 1 tbsp sugar for blueberry muffins. You can also add 1 tbsp lemon zest.
* Add 1/4 cup of chocolate chips for chocolate chip muffins.
*Add 3 tbsp coco powder and 3 tbsp chopped dark chocolate for chocolate muffins.
*Swirl cinnamon crumble (2 tbsp butter, 2 tbsp brown sugar, 1/4 tsp cinnamon and 2 tbsp flour) into the batter and sprinkle some on top before baking for cinnamon swirl muffins. You can also add it small chunks of cream cheese if you like.
*Mash one ripe banana and 4 tbsp chopped walnuts and mix in the batter for banana nut muffins. Make sure to sprinkle extra nuts on top.
*Add 3 tbsp pumpkin purée, 4 tbsp cream cheese chunks, 1/4 tsp cinnamon to the batter and sprinkle with cinnamon crumble (2 tbsp butter, 2 tbsp brown sugar, 1/4 tsp cinnamon and 2 tbsp flour) for delicious pumpkin cream cheese muffins.
* Add 1 tbsp lemon zest, 3 tbsp fresh lemon juice and 2 tbsp poppy seeds for lemon poppy muffins.
So you see the possibilities are endless, only your imaginations stands between you and your creation. I have tried to help you by providing a perfect muffin batter recipe. This recipe will yield 6 muffins and pictured above are banana nut muffins, blueberry muffins and chocolate chip muffins. Something for everyone in the family!
I hope you try this recipe and enjoy some freshly baked muffins with your family and a steaming cup of coffee. Please don't forget to subscribe to my blog, like, comment and share with family and friends!!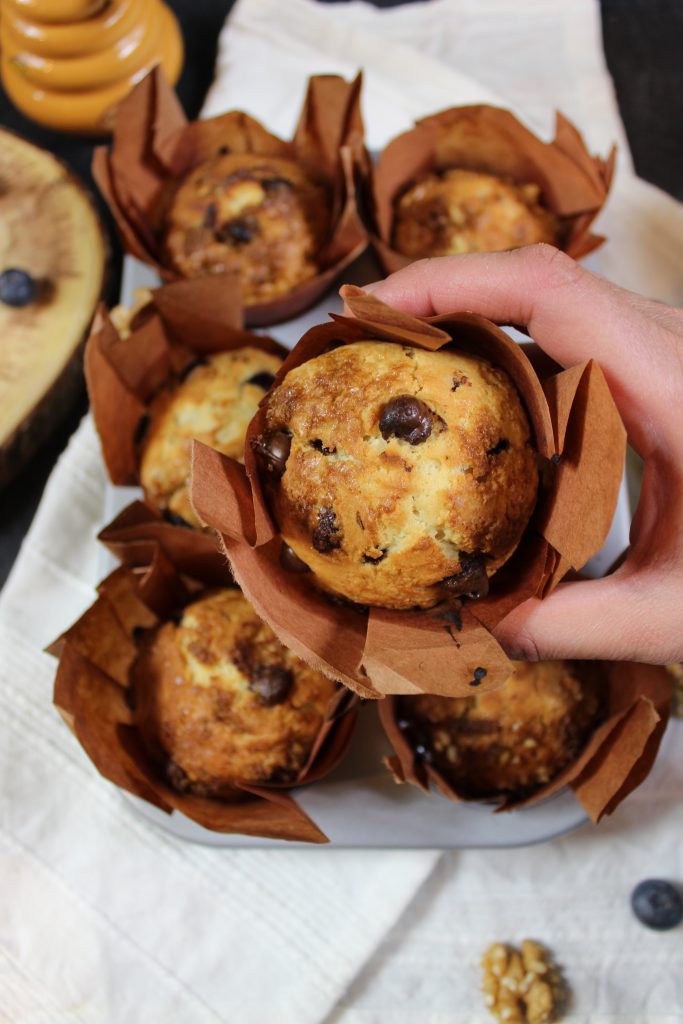 No Average Muffin
Course: Breakfast
Cuisine: American
Ingredients
1⁄3 Cup Milk


1 Egg


1⁄2 Cup Sugar


1 Cup All purpose flour


4 tbsp softened butter


1 tsp baking powder


1 tsp vanilla extract


1⁄4 tsp salt


2 tbsp brown sugar


Directions
Pre heat oven to 375 degrees

In a mixer mix butter, sugar, milk, egg and vanilla extract.

In a bowl sift flour, baking powder and salt.

Slowly incorporate dry ingredients with the wet ingredients until no lumps remain. At this point you can add in your favorite fix in's.

Line a muffin tin with 6 cupcake liners. With the help of an ice cream scoop fill the cupcake liners.

Sprinkle the batter with brown sugar before baking. Bake for 30 minutes at 375 degrees.

Once the top is golden and crisp, remove from the oven and let the muffins cool for 20 minutes before serving!!

Enjoy with a cup of hot coffee!!