It's been a few years since Mediterranean cuisine has been on a high on everyone's radar. Who doesn't love a freshly baked piece of Baklava? Right!! However, all the sugar, butter and calories are not what some of us need. Also, Baklava in its original form is a lot of work.
My husband is a stickler for dessert after dinner and even more of a bigger fan of crispy crunchy things. One night out of the blue he requested Baklava, I mean who does that at 7:30, right?! Well, I snooped around in my fridge and dug out all the things I could use to come up with a dessert similar to Baklava with half the work and hopefully half the calories.
Now, this is by no means how a traditional Baklava is made, this is my twist on a classic Baklava. By taking inspiration from traditional recipe and some not very traditional ingredients I came up with a quick and easy version of the very famous Mediterranean Baklava. I hope you guys enjoy this recipe as much as we did, and will be making this more often than not. It's perfect for tea time, dinners and taking it over to a friends/family's house for a potluck!
I have used ketaifi as the main ingredient which is basically shredded fillo dough, fast and easy to defrost, don't need to be quick while handling, and gives an immensely crispy result which we love. Everything else was in my refrigerator as was the ketaifi because we make a lot of kunefa at home. Instead of using the traditional sugar syrup for sweetening baklava, I have used condensed milk which was sitting in my fridge half used, and I didn't want to waste it. I also had some pecans in my freezer which I wanted to use, so I combined those with pistachios.
We also enjoyed our crispy birds nest baklava which was lightly sweetened with condensed milk with Iraqi clotted cream. It was a perfect bite, with some crisp, some sweet and some cream. Again I used the cream because I didn't want it to go to waste and is not required for the recipe.
Please don't forget to like, comment and share if you are enjoying the content on this page and also, don't forget to subscribe to my blog.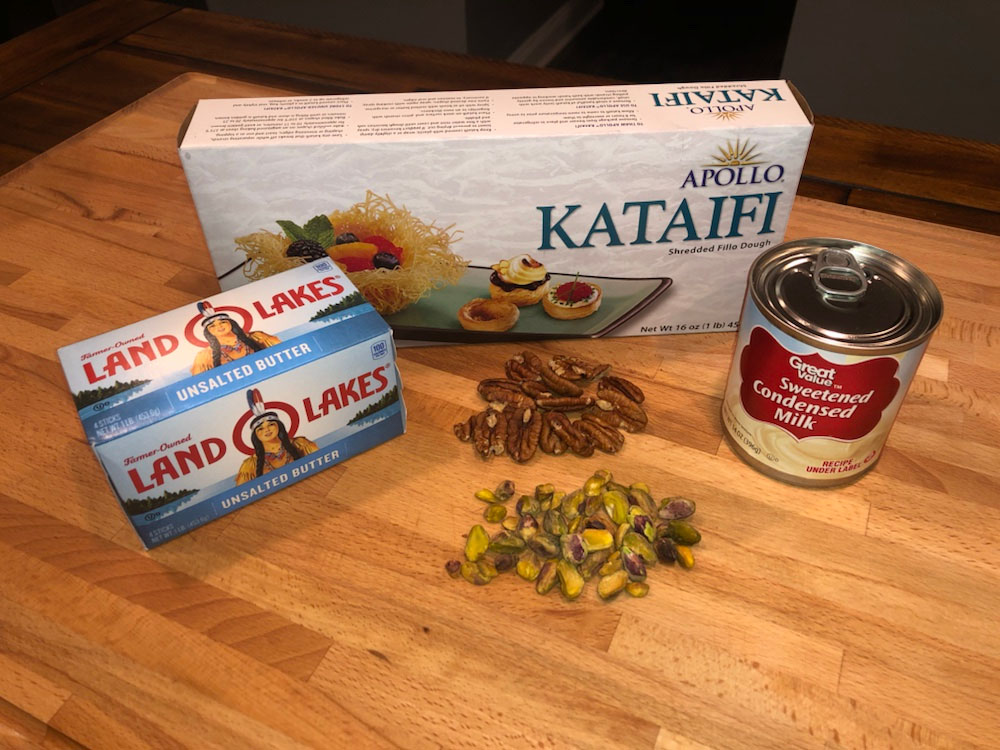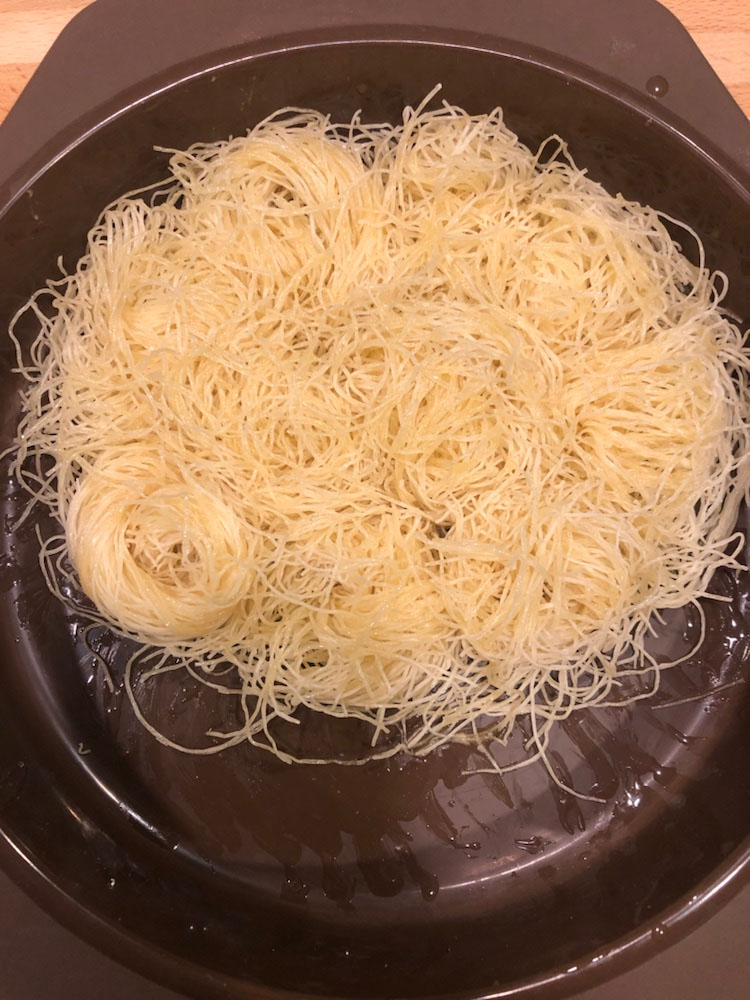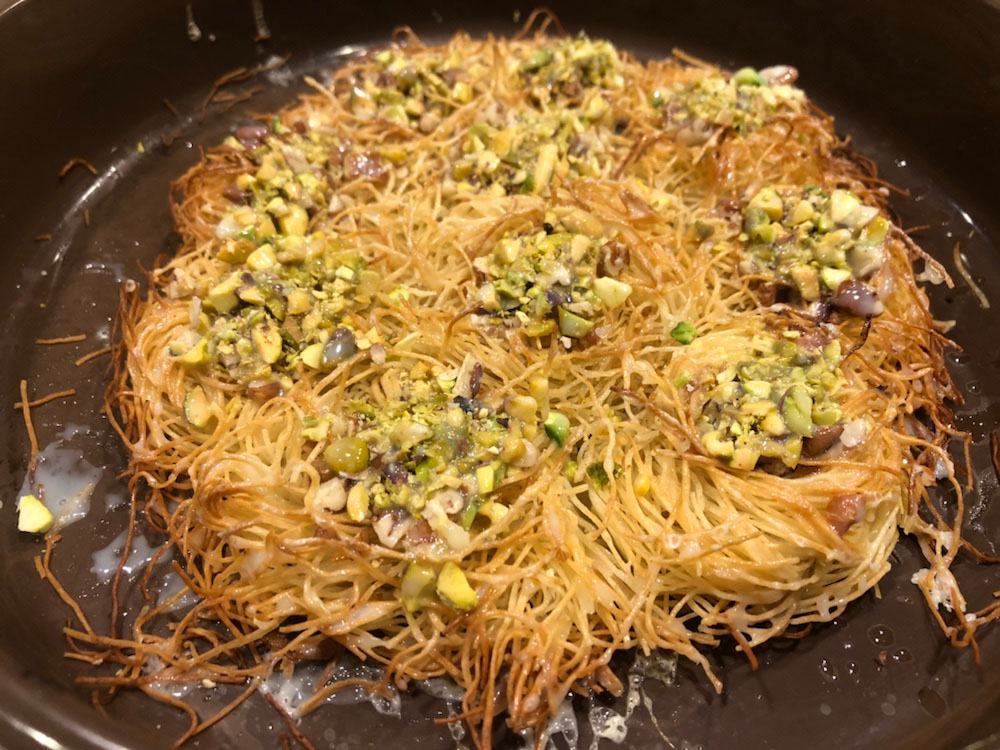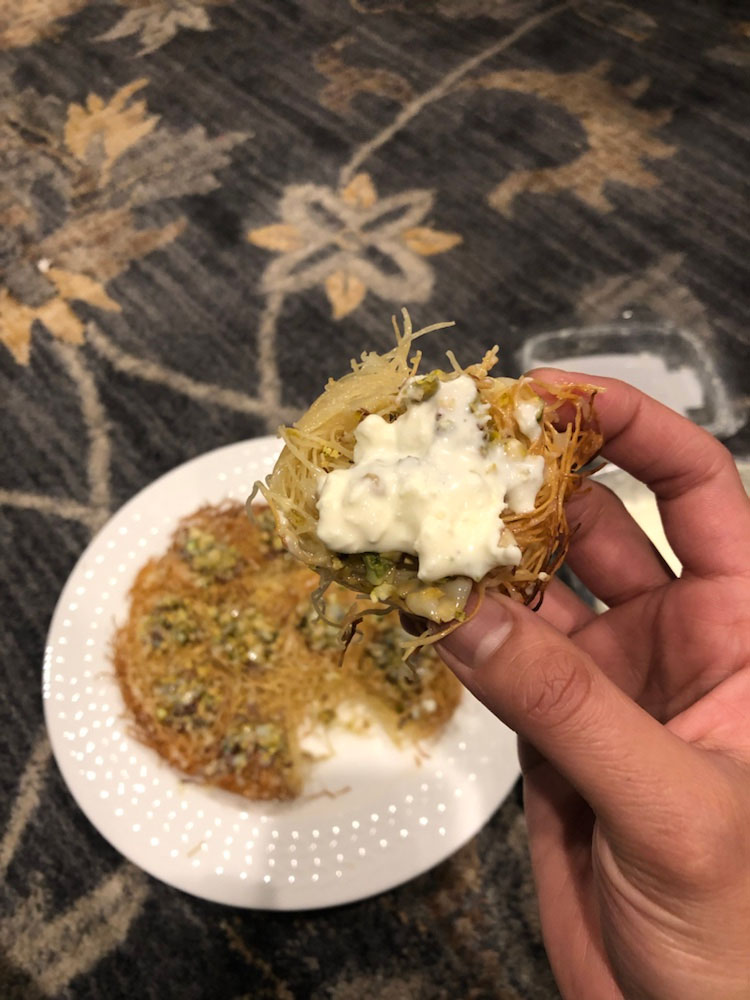 Birds Nest Baklava
Ingredients
1 cup ketaifi (shredded Fillo)


1/4 cup condensed milk


3 tbs butter melted


1/4 cup pistachios chopped


1/4 cup pecans chopped

Directions
Preheat oven to 350 degrees.

In a sauce pan, melt butter.

Break ketaifi by handful and twist in your palm in a birds nest shape, set them in a silicon tray or a Pyrex dish.

Baste the pastry with melted butter generously.

Bake in pre heated oven for 10-15 until until crispy and golden. Remove from the heat.
*you may also bake for 7 mins on one side and than flip it to bake the bottom side of you prefer crispy baklava.


Poke holes in the center with fingers when the pastry is warm to touch and fill with nuts. Generously pour condensed milk and a couple splashes of water all over the pastry and place it inside the oven for another couple minutes.

Remove from heat and serve warm or at room temperature.

Best served with English clotted cream.
Enjoy!!