Red velvet treats have been making their mark in the #urbanfood scene everywhere. Whether it be in form of cakes, cupcakes, pancakes, waffles, churros or French toast, red velvet has earned its popularity! I created this red velvet French toast with brioche bread keeping in mind the new trend. The ones I have had at popular breakfast cafes are made with red velvet cake breads and I find them a tad sweet and heavy. I wanted to create a toast which was going to hold up the delicious custard and have a balanced sweetness as well. Brioche bread is perfect because its hearty enough to soak all the custard and still has a bite to it in the center.
Red velvet and cream cheese frosting are a match made in heaven but I jazzed things up a bit and used a sweet marscapone cheese frosting instead. You will be pleasantly surprised with this new twist on a classic.
The recipe is pretty straightforward with the addition of coco and red food coloring and brown sugar for that perfect crust on the outside.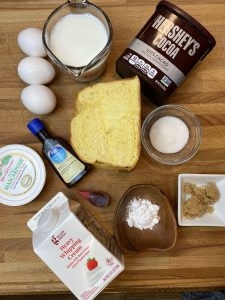 Red Velvet French Toast
Course: Dessert
Cuisine: American
Ingredients
1 1⁄2 cup buttermilk

3 Egg room temp

4 slices Brioche Bread days old

2 tbsp sugar

1 tbsp vanilla extract

1 tbsp coco powder unsweetened

2 tbsp brown sugar

1 tbsp red food color

2 tbsp butter

Berries for garnish

powdered sugar for garnish

Nutella for garnish Optional

maple syrup for serving
Directions
In a bowl mix together buttermilk, eggs, vanilla extract, granulated sugar, coco powder and red food color.
You can cut the bread in triangles or not (upto preference) soak the bread in the custard for no more then 3 minutes total. 1 minute and 30 seconds on each side.
Heat a flat pan and melt butter. Before adding the French toast sprinkle brown sugar on the side you will cook first. Repeat on the second side as well before flipping.
It should take around 3 minutes on each side.
Sweet Marscapone Frosting – Ingredients
1 cup marscapone cheese room temp
1 cup heavy cream cold
2 tbsp powdered sugar
Sweet Marscapone Frosting – Instructions
In a bowl whip heavy cream and powdered sugar until soft peaks form.
Slowly fold in marscapone cheese.