Chicken pot pie is a creamy dreamy delicious baked pie with a flaky crusty top. Unfortunately it wasn't something that I could eat because of my dietary restriction. We follow a zabihah halal diet and because of this I couldn't just go to the store or a resturant and buy myself a pie and indulge. This made me work harder and I started researching recipes first so I could picture the flavor profile in my head. Once I began to understand in my head how a pot pie should taste I started experimenting with recipes until I came up with the perfect recipe to satisfy my craving.
A classic pot pie is usually made with left over chicken, but in this case its made from scratch because rotisserie chicken is not readily available for average Muslim consumers in the United States. In the beginning I use to make my pot pie with the classic vegetable chicken combo which consists of peas, corn, carrot and potatoes. It wasn't a few years later until I experimented with fennel and boy was that a game changer for me. The flavor profile of a pot pie made with fennel is so intense, its insanely good. My favorite is how the fennel smells, and its a flavor bomb when combined with chicken, gravy and the crust.
I have also tried different crusts with my pot pie, the first crust I used was the regular puff pastry and a regular pie crust. I didn't mind either of those crusts until one time I used the biscuit tops. Now let me tell you, it's not going to be a light meal if you use the biscuit as your crust but it will be hearty and your belly will be satisfied.
Chicken pot pie is such a crowd pleaser. It can be served family style or individually and can be made ahead of time. The ingredients are simple but the end result is nothing short of spectacular. Once you make this version of chicken pot pie you'll never want to make it any other way.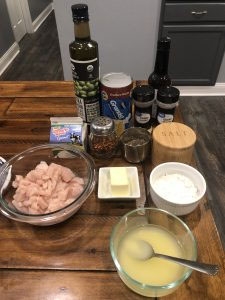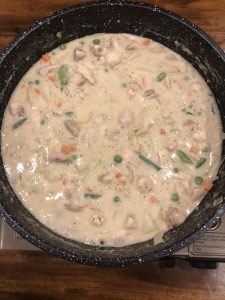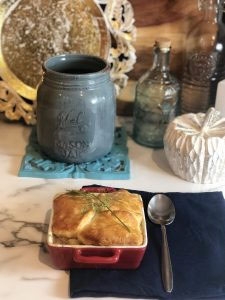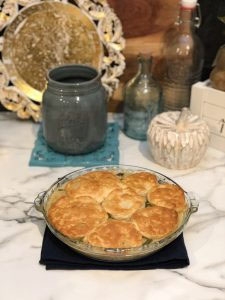 Chicken Pot Pie
Course: Appetizer
Cuisine: American
Ingredients
1 lb boneless skinless chicken breast chunks small size


3 tbsp butter


2 tbsp olive oil


1⁄4 cup chicken stock


3 tbsp all purpose flour


1⁄4 cup heavy cream


1 tbsp wostershire sauce


1 tsp garlic powder


1 tsp onion powder


1⁄3 Tsp crushed red pepper


1 tsp black pepper


1⁄3 tsp nutmeg


1 Medium onion finely diced


1 tsp crushed garlic


1 cup mushrooms quartered


1 cup frozen peas and carrots


1 cup peeled and diced potatoes


1⁄2 cup fennel sliced


1⁄4 cup green beans trimmed and cut


1⁄2 cup water


salt to taste


1 Pkg pillsbury grands biscuits


Directions
Pre heat the over at 350°

In a sauce pan heat oil, and butter. To this add onions and garlic and cook until translucent.

Now add the chicken and cook on high until no longer pink.

At this point season the chicken with wostershire sauce, salt, pepper, crushed red pepper, onion powder and garlic powder and cook for a couple of minutes.

Now add potatoes, fennel and green beans and cook for a few minutes. Once the potatoes look like they have started to change color add the mushroom, peas and carrots.

Mix well, when you see the veggies have released their liquid sprinkle 3 tbsps of flour on the chicken and veggies. Work quickly and mix the flour with the chicken and veggies so it doesn't start forming clumps.

Now add the chicken stock and the heavy cream to the chicken. You will start to see a thick sauce coming together.

At this point add ½ cup water and the gravy will come together nicely. Turn off the heat.

Finish off the gravy with freshly grated nutmeg

Transfer the chicken pot pie base into ramekins.

Top them off with grands biscuits cut in half.

Brush the biscuit tops with milk.

Bake at 350° for 30 minutes or until the tops are nice and golden.

Let rest for 10 minutes before serving.

Enjoy!!