Punjabi Kadhi pakora originated in the Indian subcontinent, it is a thick yogurt and gram flour based sauce which is then tempered with hot oil and aromatics. Later when it got popular many regions started making adjustments to it according to their preferences and Kadhi with pakora remains to be of the most popular versions of it. The idea to add deep fried onion fritters is believed to be a variation that Punjabi's introduced to this dish.
I grew up in Pakistan and only ever had Kadhi which was basically yogurt and gram flour sauce tempered with aromatics by itself with rice and a side of minced ground beef. When I moved to USA was when i had kadhi with pakoras for the first time and that's when i started to like the dish which I once hated as a child. Honestly the pakoras (deep fried fritters) add a little something to this dish. You have got to try it to believe me. It is a super delicious mid week vegetarian dish that's not only comforting but fulfilling as well.
Ingredients:
For best results, use sour yogurt, the kadhi is meant to have sour flavor but if sour yogurt is not available in your region, I strongly suggest adding fresh lemon juice to the kadhi. I usually add 2 tablespoons but sometimes I add more depending on my mood that particular day. You may also add 1 clove of garlic crushed and 1 teaspoon of grated ginger to the stock pot in the beginning with onion, tomato and green chili for extra flavor if you prefer. Mustard oil is highly recommended in Kadhi to give it extra flavor and you may substitute 1 tbsp in the beginning, I personally don't use it due to dietary restrictions but use it sparingly in the beginning if you have not used it before to get accustomed to the flavor.
When adding the adding the curry paste to the stock pot in the beginning, make sure the flame is on low to avoid gram flour from cooking too quickly and forming lumps. It is important to keep whisking continuously while adding water to ensure gram flour is dissolving.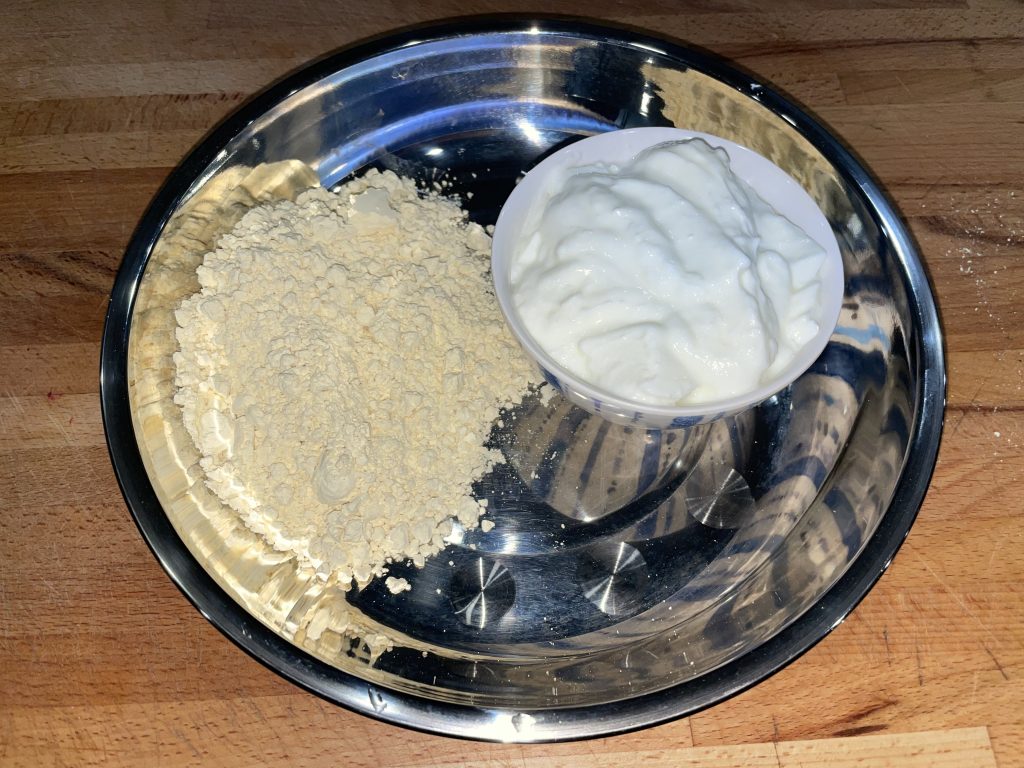 Kadhi is best served with rice, pappar and achar. I hope you give this recipe a try and enjoy it family and friends.
Punjabi Kadhi Pakora
Course: Main Course
Cuisine: Pakistani/Indian
Difficulty: Intermediate
Ingredients
3 tbsp oil

1 small onion

1 large tomato

2 clove garlic

2 tsp grated ginger

2-3 green chili

1 clove garlic

1/4 cup gram flour

1/2 cup sour yogurt

4-5 cups water

2 tbsp lemon juice (optional)

1/2 tsp turmeric

1 tsp cayenne powder

3/4 tsp garam masala

3 tsp salt

For Tempering

3 cloves garlic

2 tsp cumin seeds

5-6 curry leaves

5-6 dried red chili balls

2 tsp mustard seeds

2 tsp paprika powder

1/4 cup oil

For Pakora

1 cup gram flour

3 tsp cumin seeds

1 tbsp roasted cumin coriander powder

1/2 tsp turmeric

3/4 tsp garam masala

2 tsp cayenne powder

2 tsp salt

3/4 cup water

2 medium onions sliced

3-4 tsp green chili

Handful cilantro leaves

3/4 cups water

Oil for deep frying
Directions
In a heavy bottom pot heat heat 3 tbsp oil (substitute 1 tbsp mustard oil), to this add blended onion, tomato and green chili.
Make a thick paste with yogurt, gram flour and 1 cup water.
Turn down the flame and start whisking the yogurt and gram flour paste with the aromatics.
Keep adding water until the kadhi paste is smooth. You will add a total of 4 to 5 cups of water to the stock pot.
Season the kadhi with salt and add lemon juice if the yogurt is not sour.
Leave the kadhi to cook on medium low flame for 30 to 35 mins until it has thickened.
Pakora
Meanwhile prepare the pakora batter with gram flour, spices and water.
Once the batter is smooth, add the sliced onions, cilantro and chopped green chili.
Heat oil in a frying pan, and deep fry the pakoras until golden and crispy.
Drain and set aside until ready to use.
Once the Kadhi has been cooking for 30 to 35 mins, it should've thickened.
Remember to keep the flame at medium low, to this add the pakoras and sprinkle chopped cilantro.
Tempering
In a frying pan add oil, to this add chopped garlic and bring it to heat. Once the garlic starts turning golden, add the dried red chili balls, cumin seeds, curry leaves and mustard seeds and turn off the flame.
As soon as you are ready to pour the tadka on the kadhi add the paprika powder to the hot oil and pour it on the kadhi.
The kadhi is now ready, serve with rice, pappar and achar