Nihari is a slow cooked meat stew which originated in the Indian subcontinent. It is mainly cooked with beef shank but can be made with mutton or chicken, it is flavored with a blend of spices and thickened with a whole wheat flour slurry. I learnt the base of this recipe from my cousin, however, made a few changes to better suit my style and in my opinion elevate the flavor of the entire dish. You may choose to use less spices or reduce the amount of fat (oil and ghee) if you prefer to fit your needs but remember authentic nihari is loaded with spices and fat. After trying this recipe it will definitely remind you of the famous Pakistani nihari vendor Haji Idrees in Karachi if you've ever had it before.
The homemade nihari masala recipe is my husbands since he was quiet famous amongst his friends in his single days for his nihari. Alhumdulillah to this day he can make nihari better then me. Every time i make nihari Amir makes the fresh home made nihari spice blend for me.
How to get the meat cut for Nihari:
If the bones have marrow in them, it takes around 3 hours for it to fully cook before melting in the nihari. If you wish to reserve the marrow, carefully scrape it out with the back of a tablespoon in a bowl and set it aside. Heat it up before serving!
Meat Temperature & Cooking technique:
It is very important to make sure that the meat is at room temperature before cooking.  Cold meat against a hot pan will stick to the bottom of the pan and decrease the temperature of the oil. It is important to sear the meat in oil and masala to lock in the moisture. This will ensure the meat will not drastically shrink after cooking
Serving Suggestions:
It is said that nihari is best served the following day as the meat tastes better after it has had time to absorb all the flavors. If you wish to make this recipe for a party, i would suggest making it a day ahead. When you reheat the nihari, do so on a low flame and do not fiddle with the meat a lot or else it will break and shred in the gravy.
Serve with ginger, cilantro, sliced green chili and lemon or lime.
Personally we love to eat plain boiled rice with nihari but it is served with fresh hot naan.
Instant Pot:
If you do not have 8 hours to make the nihari, you can pressure cook the meat with 2 cups of gravy in the instant pot for 25 mins after adding the flour paste. After that add it back to the stock pot and continue cooking for an additional 2 to 3 hours until oil separates from the gravy and the nihari thickens.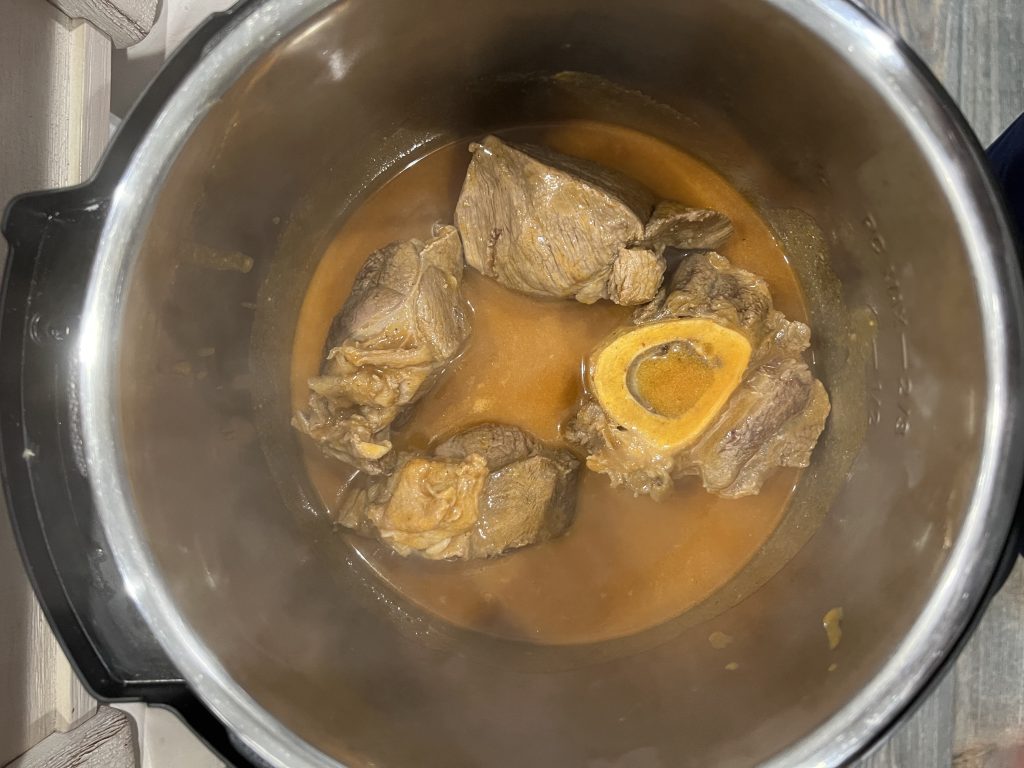 Protein Alternate:
If you wish to use an alternate protein in place of beef, try it with mutton instead or you can try the chicken nihari https://flavoredbyfatima.com/2020/02/20/chicken-nihari/ which is also a very popular recipe of mine.
---
I hope you guys give this recipe a try and enjoy it as much as we do. Please don't forget to tag me in your recreations.
Karachi Beef Nihari
Course: Main Course
Cuisine: Pakistani/Indian
Difficulty: Difficult
This is a copycat recipe of Famous Haji Idrees Nihari from Karachi.
Ingredients
Nihari

2 lbs beef shank (nihari meat)

1 tbsp ginger garlic paste

3/4 cup wheat flour

3/4 packet Nihari masala (Shan)

1 tbsp homemade nihari masala (recipe follows)

2 tbsp paprika

5 cups water

½ cup ghee

¼ cup oil

salt to taste

cilantro for garnish chopped

lime/lemon wedges

green chilis for serving (sliced)

Homemade Nihari Masala

3 tbsp dry ginger powder

10 cloves pepli

6-8 pcs cloves

2 tsp cinnamon powder

2 tbsp mace

1 tsp nutmeg

1 tbsp cumin seeds

1 tbsp coriander seeds

1 pod star anise

2 pods black cardamom

2 tbsp fennel seeds
Directions
In a bowl mix shan nihari masala, salt, paprika, and home made nihari masala with 1/2 cup water and make a paste
In a bowl mix 3/4 cup wheat flour with 1 cup cup of water and make a smooth paste.
In a heavy bottom stock pot heat oil and ghee.
To this add the masala paste and cook for 1 minute.
Now add the beef and sear the meat for a few of minutes on each side.
At this time add your ginger garlic paste and fry for another few minutes on a medium low flame.
Now add 5 cups of water and let it come to a boil.
When the water is boiling add wheat flour paste, stirring continuously to avoid lumps. You will notice that the oil will disappear.
Turn down the flame to medium low, cover the pot and continue slow cooking the nihari for 8 hours.
If there are any bones with marrow, you can take out the marrow from the bones after 3 hours.
Check the nihari every couple of hours and stir the meat around.
After a few hours the oil will slowly start to separate from the gravy and you'll be able to notice it on the surface.
After around 7 to hours the meat should be fully cooked and fork tender. Turn off the flame.
To serve sprinkle with cilantro, thinly julienned ginger, sliced green chili and lime/lemon wedges.
Enjoy with hot naan!!
Homemade Nihari Masala
In a pan roast all the whole spices for a few minutes until fragrant.
When cool, grind all the spiced in a spice grinder until smooth. Now mix in the powdered spices.
Store in a glass jar.